Flow calibration to the highest quality demands with international recognition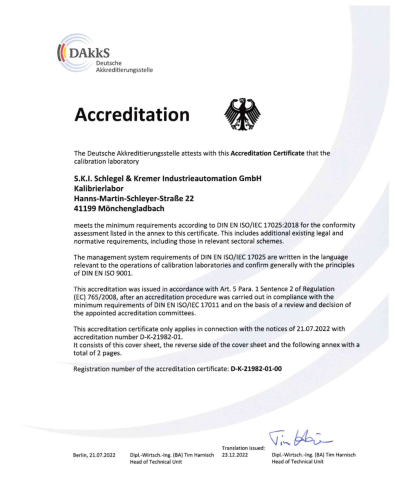 For more than 30 years, S.K.I. is an engineered focused and successful manufacturer of high quality differential pressure primary flow element solutions. From very early on, we were asked by some of our demanding customers to supply calibrated flow measurement systems.
After initially meeting these requests by utilizing external partners, in 2014 we started building our own water flow test laboratory. Expanding on our ISO 9001 quality management system, which is certified by TÜV, from the start we aligned the quality of our testing facility to DIN EN ISO 17025.
In the following years, after more than 1000 calibrations and numerous optimizations, our test facility was successfully accredited by DAkkS (national accreditation body of Germany) in 2022. With a measurement uncertainty of 0.09% based on DIN EN ISO 17025, we are now able to are able to offer calibrations with an accredited calibration certificate in addition to the traditional factory calibrations (not accredited).
Since the calibration certificates have a combined ILAC-MRA mark, the validity of the calibration is also recognized internationally.
Flow Calibration Services with Expanded Flexibility
A special feature of our testing facility is the breadth of flexibility that we are able to offer. We can calibrate pipe sizes in diameters ranging from DN 25 (1 ") to DN 300 (12") with an installation length from a few centimeters up to several meters. Complex piping arrangements can be set up in our test facility simulating actual customer inlet and outlet disturbances.
Our range of services
Our standard service includes the creation and maintenance of a logbook, which shows the calibration history over the entire service life of your measuring device.
On request, we can also offer you the following additional services:
Support in defining the general parameters such as the number of test points and at what specific flow rates.
Design and delivery of necessary adapters to adapt the test object to fit on the test bench
If possible, a required adjustment of the test item to meet specifications
For urgent needs, flow calibration within 24 hours may be possible depending on the setup
Some key specifications of our test facility
Diameter range
DN 25 to DN 300 (1 to 12 inches)
Calibration Fluid
water
Flow range
0,3 to 800 m³/h (accredited range 0.9 to 800 m³/h)
Length of the Flow Meter Section
50 to 3000 mm (2 inches to 10 feet).
Special construction up to 6000 mm (20 feet) may be possible
if required.
Maximum weight of the Flow Meter Section
1000 kg
Measurement uncertainty up to
+/- 0.05% (0.09% for accredited calibration certificates)