Description
SDF-Sensors for steam probes are used wherever flow or heat quantity of superheated or satured steam is to be measured. They have been proven in practice to be reliable, stable and accurate for more than 25 years.
Due to the robust technology and the simple principle of measurement SDF-Sensors can be used in many different ways even under difficult conditions and offer considerable advantages over other measuring technology from easy installation to long-term measuring stability.
Further special advantages are the possibilities of bidirectional flow measurement as well as the integration of temperature and pressure measurement to calculate the current operating density. This is supported by the AccuMind® flow computer which can calculate the current steam and heat quantity.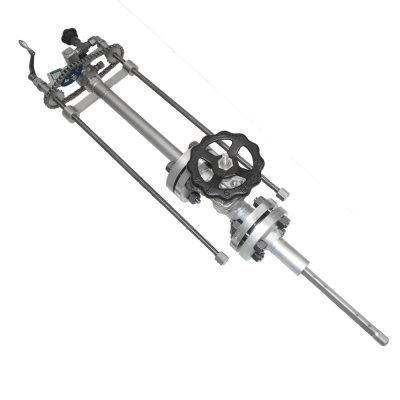 In the FASTLOK version for steam the SDF-sensor can be removed and inserted into the pipe without interrupting plant operation. They are available in four different versions up to a high pressure variant in PN100. To make the process of insertion and removal easier they can be equipped with an integrated gear drive.
SDF-Sensors for steam offer practical advantages wherever
a simple, fast and low-cost installation is required,
an existing pipeline need to be retrofitted with a flow meter and little installation efforts,
little space and therefore only short straight pipe runs available,
other measurement principles reach their limit due to the pipe size, pressure or temperature,
pipelines in which operation can or may not be interrupted during installation
for economic or technical reasons only low pressure losses shall be caused by the measuring instrument.
Technical specifications
Measured quantity:
Differential pressure
Optional: Static pressure, Temperature
Measured medium:
High, middle and low pressure steam
Saturated and superheated steam
Temperature range:
Standard: up to 450 °C
Optional: up to 650 °C
Pressure range:
up to PN 320 (flanged) / ANSI #2500
upon request: welded design
Diameter range:
DN 25 … DN 3000
1" up to 120"
Required straight inlet and outlet pipe runs:
7xD inlet, 3xD outlet
Material:
Standard: 1.4404 (AISI 316L)
Extended standard and custom materials: 1.4571, 1.5415, 1.7353, 1.7380, 1.4922

ASTM A 182 Gr. F1, F11, F12, F22, F91
Error limit k-factor:
±1% of measured value
Reproducibility:
±0,1 % of measured value
Measurement range:
up to 1:40 (in relation to max. flow)