Description
SDF-Sensors are using the averaging pitot tube technology and can be used wherever flow rates of gases or liquids are to be measured. They have been proven in practice to be reliable, stable and accurate for more than 25 years.
Due to the robust technology and the simple principle of measurement averaging pitot tubes can be used in many different ways even under difficult conditions and offer considerable advantages over other measuring technology from easy installation to long-term measuring stability.
Further special advantages are the possibilities of bidirectional flow measurement as well as the integration of temperature and pressure measurement.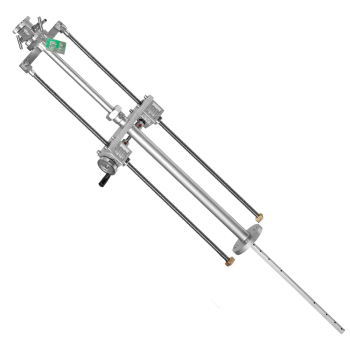 In the FASTLOK version the SDF-Sensor can be assembled and disassembled without interrupting plant operation. They are available in four different versions for different pressure ratings and also for hazardous gases and atmospheres. The FASTLOK probes can be equipped with gas-tight stuffing box packings for hazardous media and, for simpler (dis)assembly and integrated gear drive.
SDF-Sensors offer practical advantages wherever
a simple, fast and low-cost installation is required,
an existing pipeline need to be retrofitted with a flow meter and little installation efforts,
little space and therefore only short straight pipe runs available,
process gas with dust, fibers, corrosive elements or at water saturated conditions shall be measured
Pipelines in which operation can or may not be interrupted during installation
for economic or technical reasons only low pressure losses shall be caused by the measuring instrument.
Technical specification
Measured quantity:
Differential pressure
Optional: Static pressure, Temperature
Measured medium:
Gases (with dust, water saturated, corrosive) Liquids (low viscosity)
Temperature range:
Standard: −50 … 450 °C, optional −180 … 1100 °C
Pressure range:
up to PN 320 (flanged) / ANSI #2500
upon request: welded design
Diameter range:
DN 25 up to 10000 mm
1" up to 400"
(suited for rectangular ducts)
Required straight inlet and outlet pipe runs:
7xD inlet, 3xD outlet
Material:
Standard: 1.4404 / AISI 316L
Extended standard: 1.4541 (AISI 321), 1.4571 (AISI 316Ti), Hastelloy C22 (alloy 22), other materials upon request
Error limit k-factor:
±1% of measured value
Reproducibility:
±0,1 % of measured value
Measurement range:
up to 1:40 (in relation to max. flow)