Description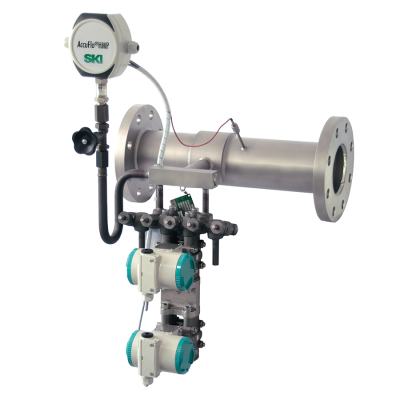 Users are often faced with the task of implementing a flow measurement with high requirements and under complicated conditions. For example if the demand for high measuring accuracy meets insufficient available straight pipe runs many measuring principles are directly ruled out.
The AccuFlo®HMP was developed especially for such requirements. It meets the highest accuracy requirements and is a precision mass flow meter for billing and transfer measurements even under extreme mechanical loads. It is optimally tailored to the respective measuring task and can also be used for extremely short inlet and outlet straight pipe runs due to the integrated flow profile optimization and fine-meshed velocity measurement
Thanks to its "plug-and-play" design it offers fast installation and commissioning.
It is traceable to international standards and offers unique operational reliability based on the water calibration certificate of an approved body issued by a labratory (by an ISO 17025 labratory or an office of legal metrology). Unpleasant discussions about quality of energy and mass accounts and balances are a thing of the past-
The AccuFlo®HMP offers practical advantage wherever
Accurate and traceable measurements outside of the jurisdiction of the measurement instrument directive are required (e.g. steam measurements),
Very high measurement accuracy is required ,
Only very short straight pipe runs are available,
A "Plug-and-Play" solution is preferred,
Reliable measurement results are required even under harsh operating conditions,
The measurement is supposed to be insensitive against pipe vibrations,
Technical specifications
Measured quantity:
Flow (as volume flow, mass flow, standardized volume flow, transferred heat or velocity)
Absolute Pressure
Temperature
Measured medium:
Natural Gas
Technical Gases (Air, Nitrogen, others, water saturated or corrosive,)
low viscosity liquids (also non conductive)
Steam (saturated and super heated)
Temperature range:
Standard: −50 … 450 °C, optional up to 500 °C
Pressure range:
Standard: PN10 up to PN
100 (AISI Class 150 up to AISI Class 600)
Higher pressure ratings upon request
Diameter range:
DN 25 up to DN 300
1" up to 12"
(larger diameters upon request)
Required straight inlet and outlet pipe runs:
for 90° elbows: 2×D inlet, 1×D outlet
Material:
Flow sensor: 1.4404 (AISI 316L) or 1.5415 (ASTM A335 Grade P1/F1)
Pipe section: 1.4404 (AISI 316L) or 1.5415 (ASTM A182 / A335 Grade P1/F1)
Measurement range:
Standard: 1:15
Optional 1:50 (depending on application)
Error limit:
Typically ±0,3 % of mass flow in calibrated range for gases and liquids

Typically ±0,5 % of mass flow in calibrated range for steam
Flow computer:
For panel or wall mounting
TFT colour display with touch screen
2 analog outputs (0)4 ... 20 mA
3 switching outputs (freely selectable function incl. alarm)
Fieldbuses (Modbus; Profibus/Profinet in preparation)
Auxiliary power 90 ... 250 V AC or 18 ... 36 V DC